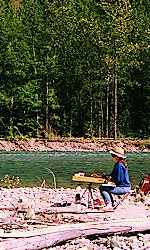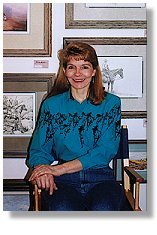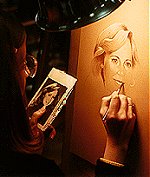 Teresa A (Maring / Snyder) Snider was born in El Centro, California, growing up in a small farming town. As a young girl, the love of rodeos and country landscapes made a lasting impression on her. She now lives in Washington state.

Teresa won her first awards while she was still in high school. Following an interest in art since childhood, she graduated with honors from the Art Center College of Design receiving a bachelor's degree in Illustration. At Art Center, she studied under such renowned artists as Joseph Henninger, Lorser Feitelson, Jack Leynnwood, Harry Carmean and others. The high quality of her work brought special distinction to Teresa at graduation. She was selected as one of seven graduates given the opportunity to participate in a post-graduate study program in Connecticut with world renowned illustrators / artists Mark English, Robert Heindel, Bernie Fuchs, and Fred Otnes.

Teresa has worked as a professional artist / illustrator for many years. For her, art is a career and lifetime commitment. In illustration, her list of clientele has included buyers such as Bank of America, Eddie Bauer, AT&T, Microsoft Corporation, Safeco Life Insurance, and Hunt-Wesson Foods to name only a very few. She participated in the U.S. Air Force Art Program, and has paintings in the Air Force's permanent art collection in Washington, D.C. Her artwork (in illustrations, paintings, and portrait commissions) is in corporate and private collections throughout the United States.

"I have always been fascinated by the interplay of light, shadow, and color ... and the way all of these elements dance together in harmony as I look at things in the world around me. Light brings a feeling of warmth and happiness, and gives each of us the illusion of three dimensions on a two-dimensional surface. Light helps to move the eye of the viewer into and through a piece of artwork. I love to draw and paint the subjects and ideas that have touch my spirit in some way. I choose to capture ideas of a moment in time that other people can enjoy as well."

She has exhibited her work at the National Western Art Show in Ellensburg, WA, as well as other art show, and in galleries. Teresa was featured in the 'Gallery' section of the November '96 issue of Western Horseman magazine. She was one of the Top Ten Western Artists in the 1999 Will Rogers Masters Trappings exhibit, organized by the Academy of Western Artists ('dedicated to the preservation and promotion of Western Arts').

Teresa works in most mediums, with watercolor and pencil being favorites. She is interested in many subjects. Each painting and drawing is worked out in detail before color and painting is begun. Those who appreciate good drawing, design, and fastidious craftsmanship will find good reason, among others, to enjoy her work. In addition to her fine art, Teresa accepts commissions for portraits (if interested, you can request addition information), and still does free-lance illustration for clients across the country.
Teresa has remarried, so now her name has changed. Teresa Snyder became Teresa Snider ... yes, it really did change by a single letter.

Home Original Art Portraits

© 1999 - 2010 Teresa A. Snider All Rights Reserved Worldwide